Announcements » Weddings
Sage Ratliff has wed Geoffrey Bradbeer
Print Listing
Share on Facebook
Tweet This
Send to Friend
Send this listing to someone
Verification Information
Type in what you see above: *
Verification Information
Please type the characters you see in this picture. Note: The characters are all lower case.
x
Miss Sage Marie Ratliff and Geoffrey Thomas Bradbeer were united in marriage at 4 p.m. Saturday, August 18, 2018 in a formal double ring ceremony performed at The Silver Spoon Barn in Joplin, Missouri.

The bride is the daughter of Mr. and Mrs. Gerald Ratliff of Phillipsburg, Kansas. Parents of the groom are Dr. and Mrs. Thomas G. Bradbeer of Leavenworth, Kansas.

The officiant was Reverend Dee DePriest. Wedding music was provided by All That Music.
The bride was given in marriage by her father. She designed her dress with the help of stylist Rebecca Kelmonson from Anomalie in San Francisco, California. The tulle ball gown featured a heavily beaded chest with a star burst design of Swarvoski crystals on the bodice. The natural waist line of the dress was highlighted with a delicately beaded belt. The full tulle skirt and cathedral-length train had a scalloped lace trim, also accented with Swarvoski crystals. In place of a veil, she wore a royal-length Watteau, attached at the shoulder blades that featured matching scalloped lace trim and additional crystals.

The bride held a bouquet designed by Tiffany Goar from Bloom Boutique. The cascading bouquet featured black Baccara roses, deep purple Callas, blush Ranunculus and was accented with Astilbe and lambs ear.

For her reception, the bride wore an elegant fit and flare dress from Essence of Australia. The dress featured a high-necked illusion neckline, and an open back with sparkling crystal cross straps. Made from lace, tulle and regency organza; paired with silver beading and ivory corded silver lace to stand out against the champagne dress. The back of the dress closed with silver buttons and featured a long tulle train that was put up in a traditional bustle for the reception.

The maid of honor was Kinzie Ratliff, sister of the bride. Bridesmaids were Sarah Cooper and Bonnie Miller. Cody Kontny served as best man. Groomsmen were Conrad Griebel and Jared Kirkland. The ring bearer was Scooter, the bride's dog.

The ceremony was followed by a reception at The Silver Spoon Barn in Joplin, Missouri. A buffet dinner was served and entertainment was provided by All That Music. Along with dancing there were several games to play including a scavenger hunt, Corn-Hole, life size Jenga and Ladder ball.

The couple plan a wedding trip to Germany, Italy and St. Lucia. They have made their home in Webb City, Missouri.

The bride is a 2017 graduate of Kansas State University with a Bachelor's degree in Mechanical Engineering and is employed at Tamko Building Products in Joplin, Missouri.

The groom is a 2013 graduate of Kansas State University with a Bachelor's degree is History and is employed at Pepsico in Joplin, Missouri after serving four years in the U.S. Army.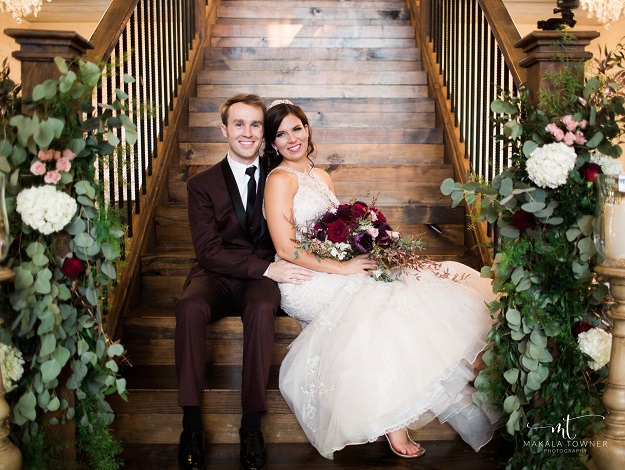 Ads by My Phillips County Online