Events » Sports
Fundamental Wrestling Camp
Print Listing
Send to Friend
Send this listing to someone
Verification Information
Type in what you see above: *
Verification Information
Please type the characters you see in this picture. Note: The characters are all lower case.
x
Share on Facebook
Tweet This
Add To Calendar
Add Listing to Calendar
x
July 12, 2018 - July 13, 2018
The Panther Wrestling program will be holding a two-day wrestling camp. Camp instruction will be provided by current and former Panther Wrestlers and coaches.
All Phillipsburg High School, Middle School, and Little Kids Wrestlers are invited and encouraged to attend. Open to boys and girls.
Skills: Takedowns, takedown defense, legs, bottom position and top position.
Cost: $30 per athlete. $10 off if you have 2 or more in family (2=$50, 3=$80, etc.) Checks payable to Andy Kenney.
Camp Schedule & Location:
Armory:
Thursday, July 12th - Morning Session: 10:30a.m.-12:15p.m.
Afternoon Session: 1:30p.m.-3:30p.m.
Friday, July 13th - Morning Session: 9:30a.m.-11:30a.m.
On the Streets in front of ACE:
Night Session: 8:30p.m.-9:00p.m. (warm-up)
9p.m.-11p.m.: Takedown Tournament under the lights uptown.
Deadline date: June 18th, 2018 by 3pm (for t-shirt) Will take late entries, but you will not receive a t-shirt.
If you need more information contact Andy Kenney or Joe Buresh. Contact information: 302-1198 and 785-208-0085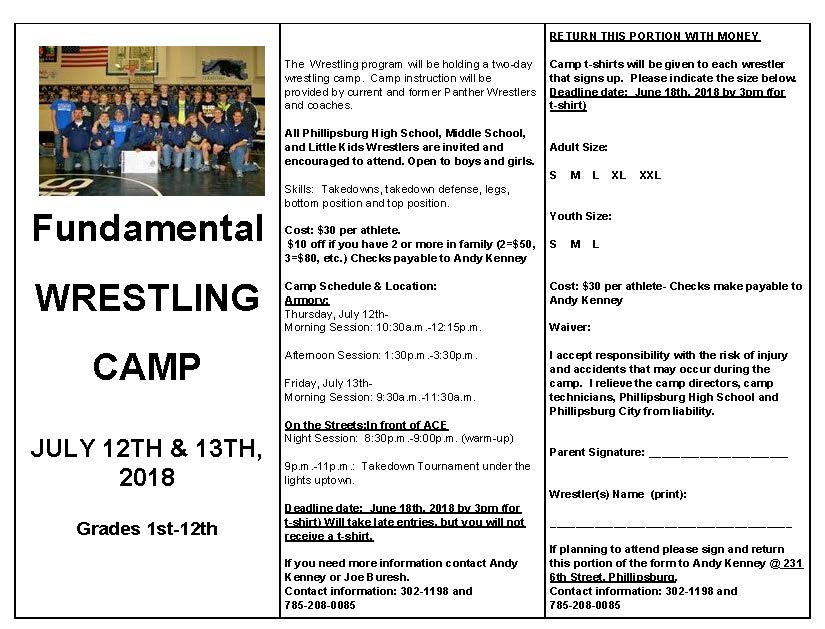 For more information: Visit Website
Location Details
Ads by My Phillips County Online