Events » Classes
Summer Young Professionals Luncheon Series
Print Listing
Send to Friend
Send this listing to someone
Verification Information
Type in what you see above: *
Verification Information
Please type the characters you see in this picture. Note: The characters are all lower case.
x
Share on Facebook
Tweet This
Add To Calendar
Add Listing to Calendar
x
July 25, 2018 @ 12:00 PM - 1:00 PM
Strategic Doing Initiative
Mission Statement: To aid young individuals in engaging in leadership opportunities within Phillips County via a formalized summer luncheon series focusing on community engagement at the civic, entrepreneurial, and volunteer levels.
Summer Young Professionals Luncheon Series
Get to know your community: Entrepreneurial success panel discussion
Come and enjoy lunch while hearing from our local business entrepreneurs about what it takes to start, grow and sustain a business in Phillips County. This panel discussion will be held on July 25th, 12:00-1:00pm at the Fischer Building (205 F Street), lunch is included. Please RSVP by Friday, July 20th toPCED2@ruraltel.net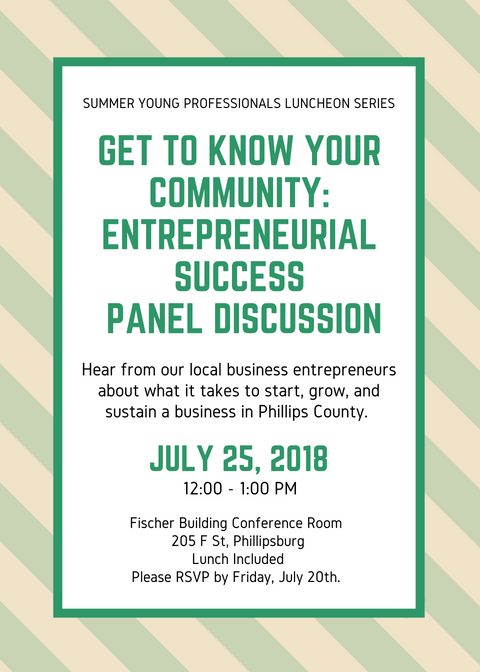 Contact Details
Visit Our Business Directory Listing:
Phillips County Economic Development
View All Our Events
Location Details
Fischer Building Conference Room - 205 F St
Phillipsburg, KS 67661
Ads by My Phillips County Online