Phillipsburg, KS (July 30, 2018) – Prairie Horizon Agri-Energy LLC (PHAE) announces it's now offering clean, affordable, better performing fuel choices to consumers at the pump, made with the ethanol the company produces. PHAE invites you to attend the grand opening of USA Clean Fuels on Tuesday, July 31, where customers will have the opportunity to receive special grand opening fuel savings from 4 to 8 p.m. in Phillipsburg, Kansas.
USA Clean Fuels offers a variety of fuel choices, including Unleaded 87, Unleaded 88 (E15), Premium E20, Super Premium E30, Flex Fuel E85, and High Flow Diesel. In addition to the special fuel savings, customers who attend the grand opening will have the chance to win a gas gift card and other free giveaways.
DATE: Tuesday, July 31, 2018
TIME: 4:00 p.m. to 8:00 p.m. CDT
WHAT: USA Clean Fuels Grand Opening
WHERE: E Hwy 36, Phillipsburg, Kansas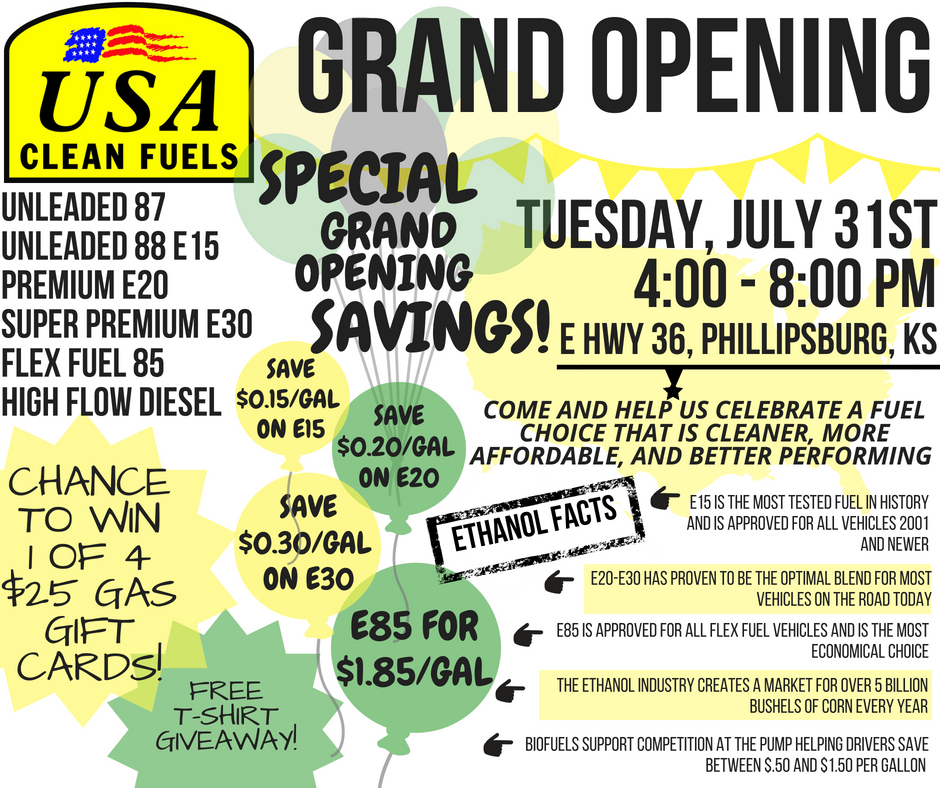 For more information on the event, contact Kera Willer of Prairie Horizon Agri-Energy at (785) 543-6719 or visit the company website, http://prairiehorizon.com/.
Prairie Horizon Agri-Energy, is a limited liability corporation, founded in November 2003 in the quaint rural community of Phillipsburg, Kansas. The company is owned by 300 area investors and employs thirty-five people. Annually, Prairie Horizon produces over 40 million gallons of ethanol and grinds 15 million bushels of grain; yielding just around 127,000 tons of high protein livestock feed. PHAE seeks to establish a sustainable operation in which our members are afforded quality return, our employees are well accommodated, our customers receive caliber product and we are able to make a positive impact in our community.