News » Health
News
Print Listing
Share on Facebook
Tweet This
Send to Friend
Send this listing to someone
Verification Information
Type in what you see above: *
Verification Information
Please type the characters you see in this picture. Note: The characters are all lower case.
x
Health
PCHS welcomes new, Board Certified, family physician Tyson Wisinger, MD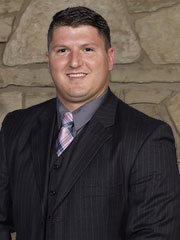 Phillips County Health Systems is pleased to announce that Phillips County native, Tyson Wisinger, M.D., will be joining their medical provider team, starting practice in October 2018.
Dr. Wisinger is a graduate of Eastern Heights High School in Agra, KS. He attended Fort Hays State University where he received an Associate of Science degree in Radiologic Technology, Bachelor of Science degree in Medical Diagnostic Imaging, and a Bachelor of Science degree in General Sciences. Dr. Wisinger obtained his medical degree at the University of Kansas School of Medicine – Salina and completed his residency training through the Smoky Hill Family Medicine Residency program and is Board Certified in Family Medicine. He currently resides in Salina, KS with his wife and two children, and is ambitious about relocating to Phillipsburg, KS.
Having both grown up in Phillips County, Dr. Wisinger and his wife, Tonya (Horn), are excited to return to their roots and to be able to raise their children surrounded by friends and family.
Dr. Wisinger said that he was most looking forward to making a difference in the community he was raised in and is passionate about. "I was actually born at the Phillips County Hospital and this is truly coming full circle to begin practice at Phillips County Health Systems. I feel that practicing medicine in a rural setting allows the community and the physician to grow as one. It is a rewarding feeling knowing that I will soon return to help foster a community that once fostered me. My goal is to provide the highest quality care and experience for my patients."
He will be seeing patients in the clinic, hospital and emergency department. His expertise includes helping with the prevention, management, and treatment of common and complex medical conditions for patients of any gender and age, from infants to older adults.
"We are excited to welcome Dr. Wisinger to our team and I have personally enjoyed getting to know him during this process," said Rex Walk, CEO. "He will be a great addition to complement our other five providers and will be a tremendous asset to Phillips County Health Systems, the town of Phillipsburg, and our surrounding communities. Dr. Wisinger's decision to move back home was truly the result of a tremendous team effort involving the Board of Trustees, providers, staff, and many members of the community. With his addition, we will be able to continue to expand healthcare services and treat additional patients."
Dr. Wisinger is anticipated to cover occasional ER shifts at the Phillipsburg Hospital until his official start date in October. To inquire about appointments and establishing care with Dr. Wisinger once his clinical practice is open, call the Phillips County Medical Clinic at 785-543-5211.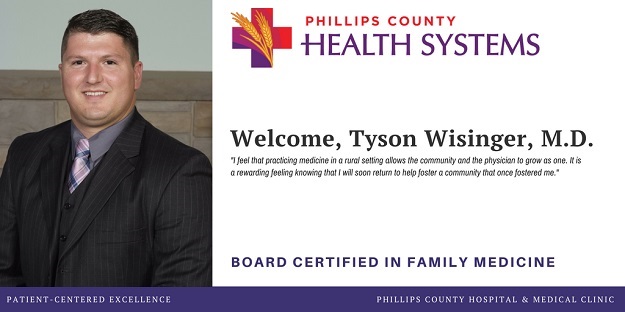 Ads by My Phillips County Online