Phillips County Area
Logan Lions Club's 'Gotta Go' project progresses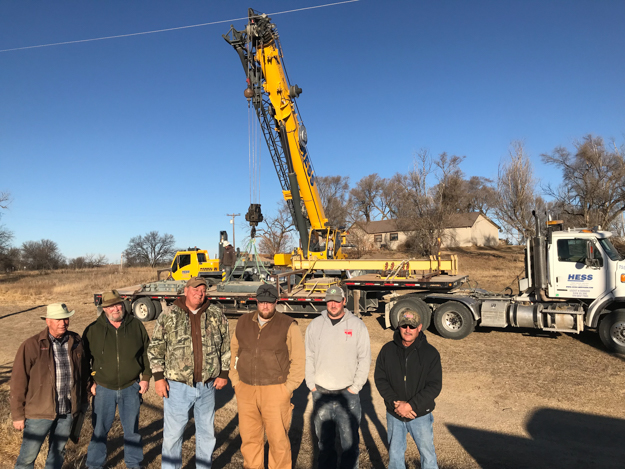 L-R Max Lowry, Llyod Toll, Christie Berg, Beau Van Loenen, Adam States, Myron Brown
The Logan Lions Club saw a need for a more permanent restroom facility for both the Logan Municipal Golf Course and the Logan Riding Arena. This yearlong "Gotta Go" project became a reality on Tuesday, December 19th, when both facilities were delivered and set into place.
Click here to see photo gallery of the arena project.
The bathroom facilities are a Tioga Special with Chase and is a precast concrete vault toilet building produced by CXT Incorporated an L.B. Foster Company. Each of the two facilities have a roof that is designed to withstand 350 lbs. per sq. ft. of snow, can withstand sustained wind speeds of 150 mph, and is ADA compliant. They contain two 1,000-gallon vaults per building; also constructed out of concrete, and has a total building weight of 73,200 lbs.
Click here to see photo gallery of the golf course project.
In the spring, the Logan Lions Club Members will complete the project with an approximate 5ft. cement approach to the front of each facility.
The project would not have been possible without the funding from a memorial and grants. Logan Lions would like to thank the following for their generous contributions towards the project: Phillips County Community Foundation, Joseph F. Lohrmeyer Estate, Albert and Leona A. Morgan Foundation, Darwin & Lorene Cole Foundation, and Dane G. Hansen Foundation.
In total the project cost $66,230.00 and will last for many years to come.
The Logan Lions Club would also like to thank Bob, Gary, & Shaun from Becker Terracing for the digging of the hole(s) and Kristy West with the City of Logan for the writing of the grants.
Ads by My Phillips County Online