News » Sports
News
Print Listing
Share on Facebook
Tweet This
Send to Friend
Send this listing to someone
Verification Information
Type in what you see above: *
Verification Information
Please type the characters you see in this picture. Note: The characters are all lower case.
x
Sports
Panther grapplers split double dual in Oberlin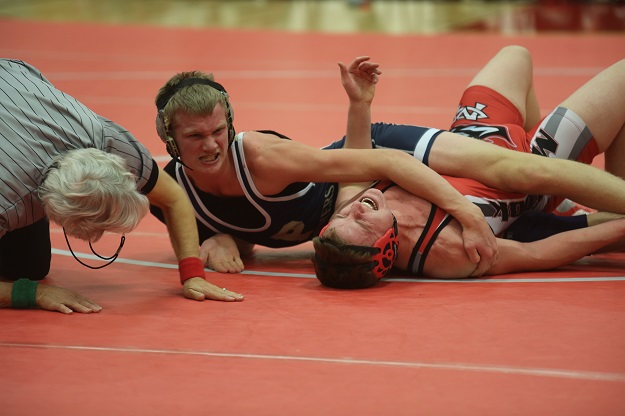 The Phillipsburg Panther wrestling team took on Oberlin Decatur Community High School and McCook, Nebraska in a tough duel in Oberlin on January 4. Although Phillipsburg remains open in several weight classes, they fared well against both teams. Freshman Aaron Lenker (106), junior Ben White (113), senior Josh Lenker (132) and junior Matt Kirkendall (160) each went 2 - 0 on the night.
Click here to view photo gallery.
Phillipsburg defeated McCook 39-31 in the first round and then fell to Oberlin Decatur 39-33. The Panther Varsity takes to the road on Saturday, January 14 to Marysville. The varsity and junior varsity teams will wrestle in Superior, Nebraska on Friday, January 13.
Phillipsburg 39 v. McCook 31

106

Aaron Lenker (Phillipsburg) over Trace Decker (McCook) (Fall 0:09)

6

0

113

Ben White (Phillipsburg) over Trevor Felber (McCook) (Dec 6-2)

3

0

120

Carson Richards (McCook) over Jacob Sisson (Phillipsburg) (Dec 6-4)

0

3

126

Talyn Campbell (McCook) over Austin Niblock (Phillipsburg) (Dec 7-4)

0

3

132

Josh Lenker (Phillipsburg) over Mason Bales (McCook) (Fall 1:49)

6

0

138

Kallen Feikert (McCook) over Chase Russell (Phillipsburg) (Dec 7-5)

0

3

145

Blaine Russell (Phillipsburg) over Unknown (For.)

6

0

152

Dominic Rudd (Phillipsburg) over Unknown (For.)

6

0

160

Matt Kirkendall (Phillipsburg) over Landon Towne (McCook) (Fall 2:37)

6

0

170

Jeremiah Minkler (Phillipsburg) over Gavin Klein (McCook) (Fall 4:21)

6

0

182

Alec Langan (McCook) over Bodey LeRoux (Phillipsburg) (Fall 1:18)

0

6

195

Jared Cole (McCook) over Open Open (Phillipsburg) (For.)

0

6

220

Kory Rogers (McCook) over Open Open (Phillipsburg) (For.)

0

6

285

Hunter Cunningham (McCook) over Rylan Hays (Phillipsburg) (MD 12-1)

0

4

Phillipsburg 33 v. Oberlin Decatur Community 39

106

Aaron Lenker (Phillipsburg) over Unknown (For.)

0

6

113

Ben White (Phillipsburg) over Alex Eskew (Oberlin-Decatur Community) (Dec 6-1)

0

3

120

Jacob Sisson (Phillipsburg) over Unknown (For.)

0

6

126

Kel Grafel (Oberlin-Decatur Community) over Austin Niblock (Phillipsburg) (Fall 1:31)

6

0

132

Josh Lenker (Phillipsburg) over Colton Ketterl (Oberlin-Decatur Community) (Fall 0:32)

0

6

138

Drew Junenaman (Oberlin-Decatur Community) over Chase Russell (Phillipsburg) (Dec 8-3)

3

0

145

Isiaha Mason (Oberlin-Decatur Community) over Blaine Russell (Phillipsburg) (Fall 0:36)

6

0

152

Daivid Waterman (Oberlin-Decatur Community) over Dominic Rudd (Phillipsburg) (Fall 2:42)

6

0

160

Matt Kirkendall (Phillipsburg) over Unknown (For.)

0

6

170

Jeremiah Minkler (Phillipsburg) over Unknown (For.)

0

6

182

Rowdy Farr (Oberlin-Decatur Community) over Bodey LeRoux (Phillipsburg) (Fall 0:43)

6

0

195

Reegon Witt (Oberlin-Decatur Community) over Unknown (For.)

6

0

220

Double Forfeit

0

0

285

Zeke Jimenez (Oberlin-Decatur Community) over Rylan Hays (Phillipsburg) (Fall 2:27)

6

0
Panther Wrestling Schedule for the remaining 2018 Season
Date
Time
V/JV
Tournament/Location
1/12
4:00 pm
V/JV
Superior, Ne
1/13
9:00 am
V
Marysville Tournament
1/19
2:00 pm
V
Hays Tournament
1/20
9:30 pm
V
Hays Tournament
1/26
1:00 pm
V
NWK Tournament of Champions @ Wakeeney
1/27
9:00 am
JV
Larned JV Tournament
2/2
5:00 pm
V/JV
Dual: Norton @ Home
2/3
9:00 am
V/JV
Panther Classic
2/10
9:00 am
JV
Colby JV Tournament
2/16
2:00 pm
V
Regional Tournament @ Goodland
2/17
10:00 am
V
Regional Tournament @ Goodland
2/23
10:00 am
V
321A State Tournament @ Hays
2/24
9:00 am
V
321A State Tournament @ Hays
Ads by My Phillips County Online