News » Sports
News
Print Listing
Share on Facebook
Tweet This
Send to Friend
Send this listing to someone
Verification Information
Type in what you see above: *
Verification Information
Please type the characters you see in this picture. Note: The characters are all lower case.
x
Sports
Panthers sweep Russell Invitational golf tournament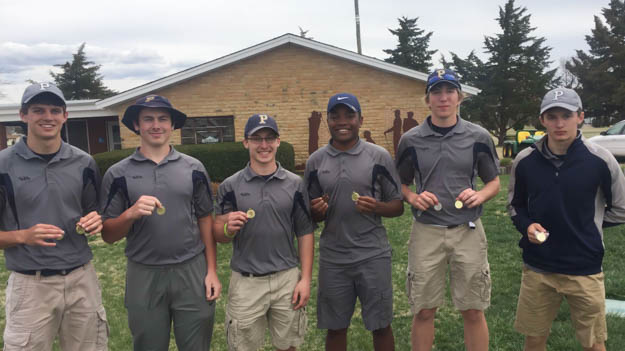 The Phillipsburg Panther golf team played the Russell Invitational golf tournament on April 26. The Panthers came out on top of the 8 teams with a score of 337, 11 points ahead of the second-place team from Great Bend. Panther junior Trey Sides placed first individually with a score of 80, followed by senior Jacey Kellerman in second with an 81.
Click here for complete tournament results.
Team Results

| Place | Team | Score |
| --- | --- | --- |
| 1 | Phillipsburg | 337 |
| 2 | Great Bend | 346 |
| 3 | Hays-TMP | 363 |
| 4 | Russell | 375 |
| 5 | Smith Center | 379 |
| 6 | Hoisington | 397 |
| 7 | Pratt | 409 |
| 8 | Hays | 440 |

Individual Results

| Place | Athlete | Team | Front | Back | Total |
| --- | --- | --- | --- | --- | --- |
| 1 | Trey Sides | Phillipsburg | 40 | 40 | 80 |
| 2 | Jacey Kellerman | Phillipsburg | 38 | 43 | 81 |
| 3 | Cole Streck | Great Bend | 38 | 45 | 83 |
| 4 | Michael Braun | TMP | 42 | 43 | 85 |
| 5 | Cal Dunekack | Great Bend | 46 | 40 | 86 |
| 6 | Austin Hobelmann | Smith Center | 44 | 42 | 86 |
| 7 | Zach Braun | TMP | 44 | 42 | 86 |
| 8 | Cha'ron Ellis | Phillipsburg | 43 | 43 | 86 |
| 9 | Drew Nicholson | Hoisington | 44 | 43 | 87 |
| 10 | Jayson Effertz | Great Bend | 44 | 44 | 89 |
| 11 | Ryan Birky | Russell | 42 | 46 | 88 |
| 12 | Brantley Baldwin | Great Bend | 45 | 44 | 89 |
| 13 | Cole Birky | Russell | 42 | 47 | 89 |
| 14 | Nathan Moon | Phillipsburg | 45 | 45 | 90 |
| 15 | Trace Haven | Smith Center | 48 | 44 | 92 |
| 17 | Ty Sides | Phillipsburg | 42 | 52 | 94 |