News » Sports
News
Print Listing
Share on Facebook
Tweet This
Send to Friend
Send this listing to someone
Verification Information
Type in what you see above: *
Verification Information
Please type the characters you see in this picture. Note: The characters are all lower case.
x
Sports
Panthers take second at Mel Schremmer Invitational Golf Tournament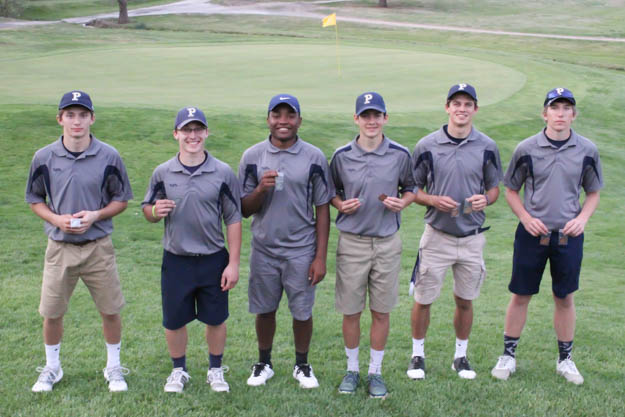 The Phillipsburg Panthers golf team hosted the annual Mel Schremmer Invitational Golf Tournement on May 8. The Panthers finished second with a score of 320, just 7 strokes behind the first place Plainville Cardinals.
Click here for complete tournament results.
Team Scores

| Place | Team | Score |
| --- | --- | --- |
| 1 | Plainville | 313 |
| 2 | Phillipsburg | 320 |
| 3 | Hays-TMP | 328 |
| 4 | Norton | 353 |
| 5 | Osborne | 357 |
| 6 | Ellis | 362 |
| 7 | Stockton | 371 |

Individual Scores

| Place | Athlete | Team | Front | Back | Total |
| --- | --- | --- | --- | --- | --- |
| 1 | Tanner Copeland | Plainville | 34 | 36 | 70 |
| 2 | Parker Krob | Plainville | 35 | 39 | 74 |
| 3 | Cameron Rozean | TMP | 38 | 37 | 75 |
| 4 | Austin Hobelmann | Smith Center | 37 | 38 | 75 |
| 5 | Steele Wolters | Osborne | 35 | 40 | 75 |
| 6 | Cade Lewis | Ellis | 34 | 42 | 76 |
| 7 | Tyler Martin | Phillipsburg | 40 | 37 | 77 |
| 8 | Brady Beougher | Stockton | 40 | 37 | 77 |
| 9 | Jacey Kellerman | Phillipsburg | 41 | 38 | 79 |
| 10 | Trey Sides | Phillipsburg | 41 | 38 | 79 |
| 11 | Michael Braun | TMP | 41 | 40 | 81 |
| 12 | Brady Frickey | Ellis | 39 | 42 | 81 |
| 13 | Aaron Hahn | Stockton | 42 | 41 | 83 |
| 14 | Justin Plante | Plainville | 41 | 42 | 83 |
| 15 | Ryan Stoecklien | TMP | 43 | 41 | 84 |
| 16 | Seth Otter | Norton | 43 | 42 | 85 |
| 17 | Cha'ron Ellis | Phillipsburg | 40 | 45 | 85 |
| 18 | Lathe Watkins | Osborne | 48 | 38 | 86 |
| 19 | Nathan Moon | Phillipsburg | 46 | 40 | 86 |
| 20 | Dalton Benedick | Plainville | 45 | 41 | 86 |
| 21 | Jay Mulder | Norton | 43 | 43 | 86 |
| 22 | Ty Sides | Phillipsburg | 44 | 43 | 87 |