News » Sports
News
Print Listing
Share on Facebook
Tweet This
Send to Friend
Send this listing to someone
Verification Information
Type in what you see above: *
Verification Information
Please type the characters you see in this picture. Note: The characters are all lower case.
x
Sports
2017-18 KCAC VOLLEYBALL SCHOLAR ATHLETES ANNOUNCED
By http://www.kcacsports.com/article/5567.php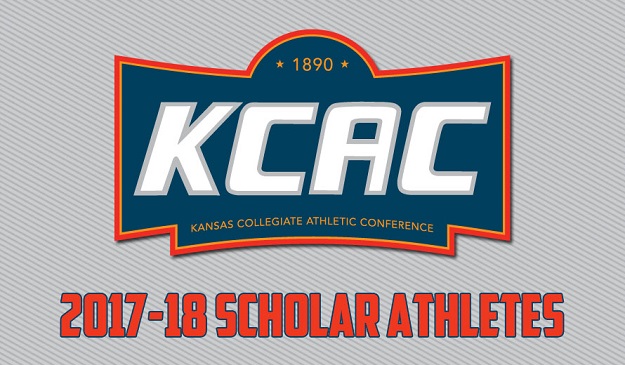 WICHITA, Kan. – The Kansas Collegiate Athletic Conference (KCAC) is pleased to announce 80 volleyball student-athletes have been named 2017-18 KCAC Scholar Athletes.
All 12 conference institutions are represented with Friends University leading the way with 17 student-athletes recognized. The group consists of 41 student-athletes from Kansas, 30 seniors, 36 juniors, and 14 sophomores.
Student-athletes must have sophomore standing at the start of the sport season, maintain a minimum grade point average of 3.333 on a 4.0 scale, and letter in their sport.
Those KCAC Volleyball Scholar-Athletes are:
| | | | |
| --- | --- | --- | --- |
| Name | School | Class | Hometown |
| Azucena Duarte | Bethany College | Jr. | Anaheim, Calif. |
| Caitlin Boden | Bethany College | Sr. | Smith Center, Kan. |
| Conner Stolley | Bethany College | Sr. | Denver, Colo. |
| Kelsie Anderson | Bethel College | So. | Lindsborg, Kan. |
| Taylor Buessing | Bethel College | Jr. | Topeka, Kan. |
| Leisle Hoffman | Bethel College | Jr. | Wichita, Kan. |
| Jeni Reichenberger | Bethel College | Sr. | Wichita, Kan. |
| Anna Stucky | Bethel College | Jr. | Moundridge, Kan. |
| Meriyah Blaine | Friends University | Sr. | Maize, Kan. |
| Jana Boston | Friends University | So. | Newton, Kan. |
| Victoria Dahlberg | Friends University | Jr. | San Diego, Calif. |
| Addie DuLac | Friends University | Jr. | Atchison, Kan. |
| Michaela Girard | Friends University | Sr. | Prairie View, Kan. |
| Kylee Glahn | Friends University | Jr. | Windsor, Colo. |
| Brittany Harris | Friends University | Sr. | Flower Mound, Texas |
| Ashleigh Hunter | Friends University | So. | Andale, Kan. |
| Melanie McCormick | Friends University | Sr. | Derby, Kan. |
| Olivia Naccarato | Friends University | Jr. | Mulvane, Kan. |
| Megan Regier | Friends University | Sr. | Newton, Kan. |
| Casey Stewart | Friends University | Sr. | Lewisville, Texas |
| Maddy Swinicki | Friends University | Jr. | Wichita, Kan. |
| Emily Thompson | Friends University | Jr. | Garden Plain, Kan. |
| Lakin Whealy | Friends University | Jr. | Anthony, Kan. |
| Ashtyn Wuthrich | Friends University | Jr. | Archer City, Texas |
| Tiffany Hurd | Friends University | So. | Gilbert, Ariz. |
| Andrea Alstatt | Kansas Wesleyan University | Jr. | Salina, Kan. |
| Morgan Beougher | Kansas Wesleyan University | Jr. | Stockton, Kan. |
| Peyton Desormiers | Kansas Wesleyan University | Jr. | Wakeeney, Kan. |
| Taylor Dodge | Kansas Wesleyan University | So. | Strasburg, Colo. |
| Bailey Gillig | Kansas Wesleyan University | Sr. | Pratt, Kan. |
| Holly Holt | Kansas Wesleyan University | So. | Shawnee, Kan. |
| Paige Johnson | Kansas Wesleyan University | Sr. | New Cambria, Kan. |
| Cassandra Martin | Kansas Wesleyan University | Jr. | Platteville, Colo. |
| Valerie Most | Kansas Wesleyan University | Sr. | Brady, Neb. |
| Jensyn Pettit | Kansas Wesleyan University | Jr. | Riverton, Wyo. |
| Kelsey Plummer | Kansas Wesleyan University | Sr. | Westmoreland, Kan. |
| Maddy Schmidt | Kansas Wesleyan University | So. | Bennington, Kan. |
| Alleigh Weems | Kansas Wesleyan University | Jr. | Salina, Kan. |
| Aspen Lungwitz | Kansas Wesleyan University | Jr. | Wichita, Kan. |
| Morgan Little | McPherson College | Sr. | Las Vegas, Nev. |
| Kaitlyn Heinis | McPherson College | So. | Oviedo, Fla. |
| Jamie Siess | McPherson College | So. | Tecumseh, Kan. |
| Bree Wallace | McPherson College | So. | Wichita, Kan. |
| Keisha England | McPherson College | Jr. | Tulsa, Okla. |
| Bailey Eberle | Oklahoma Wesleyan University | Sr. | Collinsville, Okla. |
| Savana Evans | Oklahoma Wesleyan University | Sr. | Prosper, Texas |
| Sydney Garis | Oklahoma Wesleyan University | Jr. | Austin, Texas |
| Andrea Novakovic | Oklahoma Wesleyan University | Sr. | Podgorica, Montenegro |
| Jill Starling | Ottawa University | Sr. | Gardner, Kan |
| Danielle Coronado | Ottawa University | Jr. | Mason City, Iowa |
| Kaylee Whittington | Ottawa University | Jr. | W. Des Moines, Iowa |
| Brogan Collins | Ottawa University | So. | Derby, Kan. |
| Breanna Vail | Ottawa University | Jr. | Oswego, Kan. |
| Taylor Fortner | Ottawa University | Jr. | Cedar Hill, Mo |
| Catabrean Baumann | Southwestern College | Jr. | Tulsa, Okla. |
| Kristen Calderwood | Sterling College | Jr. | Ulysses, Kan. |
| Makenzie Cork | Sterling College | Jr. | Safford, Ariz. |
| Mikaela Wells | Sterling College | Jr. | Haven, Kan. |
| Alexandra Reid | Sterling College | Jr. | Phoenix, Ariz. |
| Brooke Holloway | Tabor College | 5-Sr. | Moundridge, Kan. |
| Kimberly Hockley | Tabor College | 5-Sr. | Yellow Grass, SK |
| Amy Horner | Tabor College | 5-Sr. | Artesia, N.M. |
| Alexandra Jost | Tabor College | Sr. | Hesston, Kan. |
| Sydney Peitz | Tabor College | 5-Sr. | Cheney, Kan. |
| Megan Voth | Tabor College | 5-Sr. | Hesston, Kan. |
| Katie Bell | York College | Jr. | Hastings, Neb. |
| Deborah Kurtzer | York College | Jr. | Haxtun, Colo. |
| Molly Little | York College | So. | Billings, Mont. |
| Kelsey Taylor | York College | Jr. | Moore, Okla. |
| Devyn Colvin | University of Saint Mary | Jr. | St. Louis, Mo. |
| Bianca Asheim | University of Saint Mary | Jr. | Brighton, Calif. |
| Raegan Barrows | University of Saint Mary | Jr. | Olathe, Kan. |
| Adeline Pagan-Sanchez | University of Saint Mary | So. | N. Hollywood, Calif. |
| Emilie Kiehlbauch | University of Saint Mary | So. | Crowley, Texas |
| Nicole Rosado | University of Saint Mary | Sr. | Apple Valley, Calif. |
| Dandeesha Benjamin | University of Saint Mary | Sr. | Waipahu, Hawaii |
| Marissa Martin | University of Saint Mary | Sr. | Tonganoxie, Kan. |
| Kaitlynn Lanier | University of Saint Mary | Sr. | Kapolei, Hawaii |
| Savannah Fillion | University of Saint Mary | Sr. | Baldwin, Mo. |
| Kathleen Koepke | University of Saint Mary | Sr. | Shawnee Mission, Kan. |
Ads by My Phillips County Online