Phillips County Area
MONKEYING AROUND AT THE PHILLIPSBURG RODEO
Cowboy monkeys to entertain at Kansas Biggest Rodeo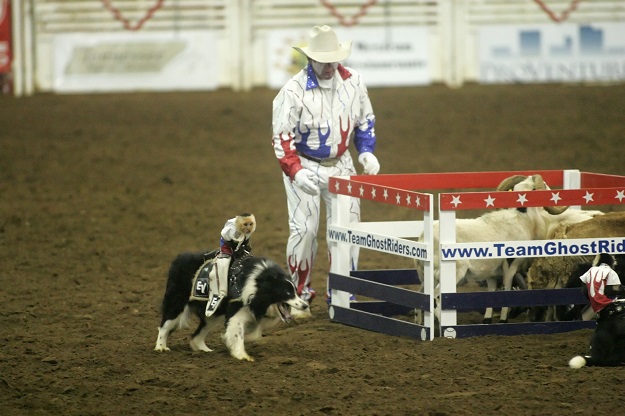 Tim Lepard stands with the monkeys he uses in his act, Team Ghostriders. Tim will entertain at the 2018 Phillipsburg (Kan.) rodeo.
Phillipsburg, Kan. (July 9, 2018) Phillipsburg rodeo fans, get out your cell phone cameras for this!
Tim "Wild Thang" Lepard and Team Ghostriders will bring three monkeys, riding three border collies, to Phillipsburg August 2-3-4 for rodeo entertainment!
Lepard dresses his Capuchin monkeys in vests, chaps and cowboy hats, and they sit in saddles on the border collies while the dogs round up sheep in the arena.
It's an amazing act that fans love to see, and Lepard and the cowboy monkeys have entertained at NFL games (including the Denver Broncos, the Cincinnati Bengals, and the New York Giants) and at NBA and NHL games.
Tim, who grew up in Pontotoc, Miss., started his rodeo career as a bull rider and a saddle bronc rider. But after a bad wreck with a bull, he switched over to bullfighting. That's when he got the nickname "Wild Thang." "I was wild and I had no fear," Lepard said. But he didn't want the nickname. "I go to church," he said, and the last thing I want to do is to pull up to church with 'wild thing' on my truck and my mama sees it."
In 1988, his career changed course again. A friend, Jimmy Anderson, encouraged him to switch to comedy and specialty acts. "He said," Tim recounted, "you can go to a rodeo and find 150 macho guys who think they're bullfighters. But you'll only find one act, and that's you. Get an act," Jimmy told him. "You'll go a lot farther." Lepard had always wanted a monkey, so he got one, and tried to train it to ride a Shetland.
But as soon as the monkey climbed up the neck of the Shetland, the Shetland shook its head and the monkey fell off. So Lepard tried border collies. They were a perfect fit, especially with their determination and try.
He has five monkeys, ranging from Sam, the oldest, at 23 years, to Happy, who was born last year. Lepard calls Sam "the duke of the monkeys," for the way Sam looks with a cowboy hat on. "He has it cocked over sideways, like John Wayne did." Meglynn is a sweetheart who is named in honor of Lepard's daughter Lakelynn, because she was born around Lakelynn's birthday. Little E, the lover of the bunch, is six years old and sometimes Lepard dresses him up like Elvis. Bubba rounds out the bunch.
Because of USDA regulations, Lepard stays current on all the health papers he needs for his monkeys. He has several three-ring notebooks full of documentation, and he's proud of the care he gives them. He loves his monkeys, "with everything in my heart. I carry it on my sleeve," he said.
Throughout his thirty-year career, Lepard has worked the halftime show for six NFL games, 220 MLB games, and appeared on Jay Leno's Tonight Show, America's Got Talent, and E60.
Lepard and his monkey cowboys, Team Ghostriders, will entertain during all three nights of Kansas Biggest Rodeo in Phillipsburg. The rodeo begins at 8 pm each night, August 2-3-4. Tickets are available at Heritage Insurance in Phillipsburg and at the gate and are $11-$14 for children ages 12 and under and $15-$18 for adults. For more information, visit the rodeo's website at www.KansasBiggestRodeo.com.
Ads by My Phillips County Online