Phillips County Area
TOPS IN PHILLIPSBURG
Kansas man continues hot streak, Oklahoma cowboy gets payback at Phillipsburg rodeo
By Ruth Nicolaus for Kansas' Biggest Rodeo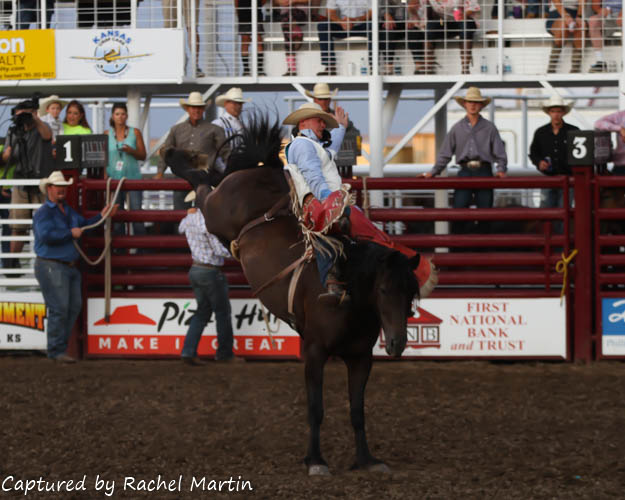 Phillipsburg, Kans. (August 4, 2018) – A Kansas man is taking home a gold buckle from Kansas Biggest Rodeo.
Blaine Kaufman, Pretty Prairie, Kansas, scored 86 points on Beutler and Son Rodeo's Black Kat to win first place and the buckle.
It was a horse he was excited to ride. "They've won Greeley (Colo.), Lawton (Okla.), all those big rodeos (on Black Kat). This is the first time I've been able to get on her, so I was pretty pumped. I knew if I did my part right, I knew she was going to do hers. I knew I had a shot to win it."
Kaufman and his wife have two small children, a son who is three years old, and a daughter, who is seven months old, and because of his family and work obligations, he competes at regional rodeos in the Prairie Circuit. He estimates he's ridden at sixteen rodeos and has won or placed at all of them but one. "This year I've been extremely blessed. It's been phenomenal." He also knows where the credit goes. "I wouldn't be able to do this without my Lord and Savior. I give all the glory to Him."
Kaufman won the Kansas High School Rodeo Association bareback riding titles twice, and in 2011, his senior year, also won the International Finals Youth Rodeo and the National High School Finals Rodeo. He won third place at the Hill City, Kan. rodeo earlier in the week and tied for first place in Abilene, Kan.
A win in Phillipsburg will help out Colt Gordon immensely.
The Comanche, Okla. cowboy won the saddle bronc riding with a score of 87 points on the Beutler and Son Rodeo horse Wound Up.
It was a bit of payback for Gordon, who is 21 years old. "I got on that horse my permit year (in 2011, at the Elk City, Okla. rodeo) and she bucked me off. So it's nice to come back and get a little revenge."
The horse, a former PRCA Saddle Bronc Horse of the Year, stumbled when she came out of the chute. "That almost helped me," Gordon said. "It let me gather her up and get her picked up. She's never a day off and the whole time you feel like you're bucked off, just hustling to get (your feet) back to the front (of the horse.)"
Gordon was in the top fifteen in the PRCA standings earlier in the year but has slipped to twenty-second; the top fifteen at the end of the rodeo year, September 30, qualify for the Wrangler National Finals Rodeo, pro rodeo's "super bowl." His first place finish in Phillipsburg will help him regain some ground. "I'm just trying to fight to get back into the top before the season is over. And this is going to help so much."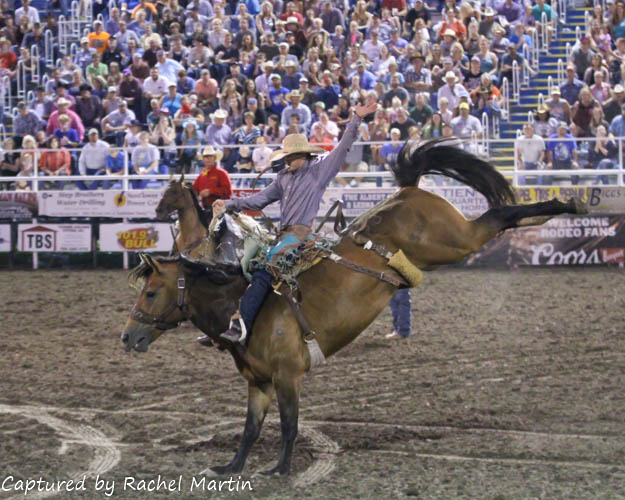 Other 2018 champions include steer wrestler Blake Knowles, Heppner, Ore. (3.9 seconds); team ropers Clay Tryan, Lipan, Texas and Travis Graves, Bluff Dale, Texas (4.0 seconds); tie-down roper Marty Yates, Stephenville, Texas (7.8 seconds); barrel racer Randi Buchanan, Chouteau, Okla. (17.24 seconds) and bull rider Cody Kyle Keathley, Sweetwater, Okla. (86.5 points). The all-around champion is Marcus Theriot, Poplarville, Miss. He competed in both the steer wrestling and team roping.
The big checks for Tough Enough to Wear Pink were awarded tonight. Including matches from sponsors, approximately $8,000 was donated to local cancer patients through the Hope for the Heartland fund. Sponsors include the Phillipsburg Rodeo Association, Prairie Horizon Agri-Energy, McClain Seed Sales, Rodgers and Associates Insurance Co., and Farmers State Bank.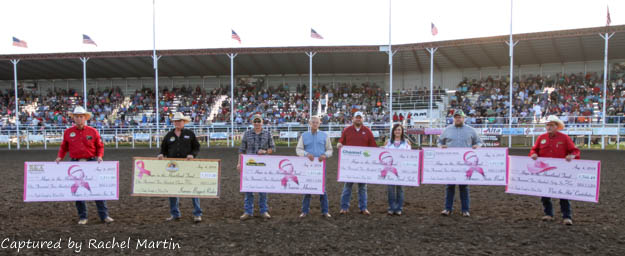 The 2018 Phillipsburg Rodeo Queen was crowned on August 2. Lacey Langer, of Superior, Neb., won the title. She is the daughter of Larry and Jody Langer and is a junior at Superior High School, where she is a member of the drill team, FFA, student council, speech, drama, FBLA, and is on the honor roll.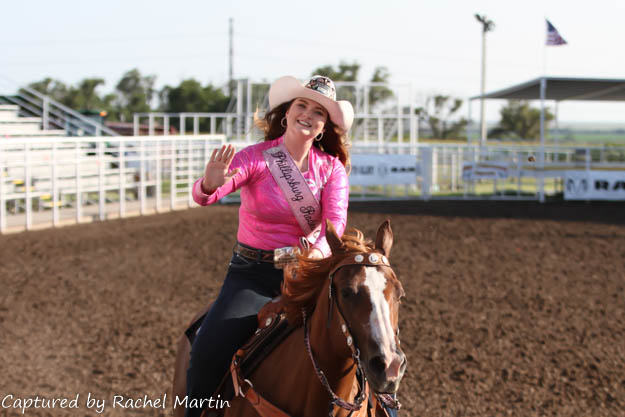 The 2019 rodeo will be held August 1-3. For more information, visit KansasBiggestRodeo.com. For complete rodeo results, visit ProRodeo.com.
Ads by My Phillips County Online