News » Health
News
Print Listing
Share on Facebook
Tweet This
Send to Friend
Send this listing to someone
Verification Information
Type in what you see above: *
Verification Information
Please type the characters you see in this picture. Note: The characters are all lower case.
x
Health
PAVING THE WAY TO PATIENT-CENTERED EXCELLENCE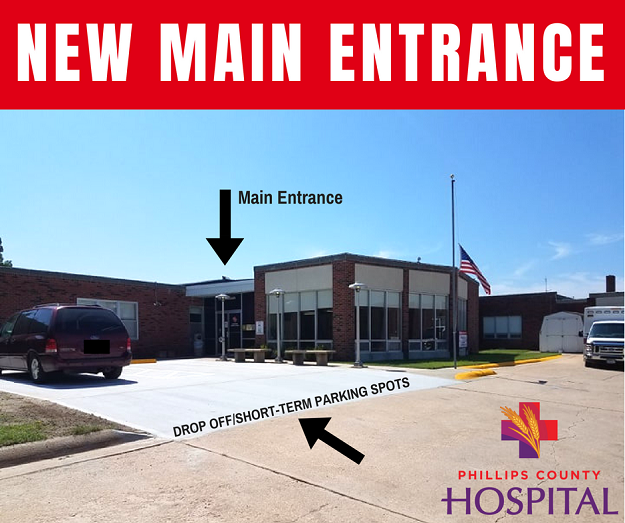 Phillips County Health Systems announces the relocation and upgrade to their primary entry location of the hospital to increase conveniences for patients, caregivers, families, and medical specialists. Construction was completed earlier this month to add a paved drive in front of the new entrance to allow for increased accessibility with the addition of two drop off/short-term parking spots right by the doors.
The new entrance is located on the east end of the hospital, which was formally the Outpatient Clinic entry and Long-Term Care before that. The addition of the patient loading area ensures safety and comfort for patients during poor weather or when physical mobility is limited.
The relocation of the entryway also allows for registration processes to be consolidated. Instead of having separate registration points for outpatient, inpatient, lab, and radiology services, those services will all be registered in the same location, limiting confusion on where to go when receiving care at the hospital.
"Phillips County Health Systems is ecstatic to be "paving our way" to meeting our patient's needs with this new primary entryway and parking area," said Rex Walk, CEO. "We are pleased with how this project lends itself to increasing our efficiency and patient-centered excellence objectives."