News » Health
News
Print Listing
Share on Facebook
Tweet This
Send to Friend
Send this listing to someone
Verification Information
Type in what you see above: *
Verification Information
Please type the characters you see in this picture. Note: The characters are all lower case.
x
Health
PCHS welcomes Van Allen as Radiology and Mammography Technologist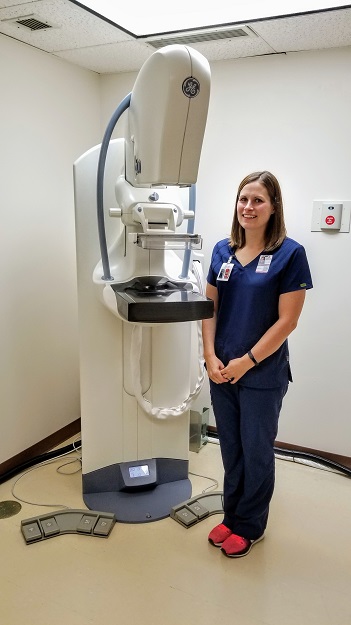 Phillips County Health Systems (PCHS) is pleased to announce the addition of Katie Van Allen to their radiology team as a Radiology and Mammography Technologist.
Katie is an accomplished and experienced radiology tech and brings a wide range of additional skills to the radiology department at PCHS, which is allowing them to expand their services into areas such as now offering mammogram exams in-house instead of having to rely on a mobile unit with limited availability.
"Katie really stood out to us as a good fit for our team and future goals and we are confident in her capability to really benefit our patients at Phillips County Health Systems with her patient-centered delivery of care and the experience she brings with her," says Mildred Hadley, Radiology Director at PCHS.
Katie has a Bachelor's of Science in Medical Diagnostic Imaging and is also certified in ultrasound. She has most recently worked at Smith County Memorial Hospital for the past 10 years in their radiology department.
Katie is married to Phillipsburg native, Matt Van Allen, and together they have three children – Miles (age 4), Claire (age 2), and Max (age 10 months). Katie enjoys running, reading, and spending time with her family and friends when she's not busy keeping up with her young children.
"I have enjoyed getting to meet several people in the community that I now call home. Everyone here is so friendly and welcoming," says Van Allen.
Routine mammograms, like those provided by Katie Van Allen at PCHS, are one of the best ways to detect breast cancer in its early stages. The mammography equipment at PCHS was recently acquired thanks to a large grant from the Dane G. Hansen Foundation and a supporting grant from the Phillips County Community Foundation and all exams are performed by our certified mammo technologist and read by board-certified radiologists.
For more information or to make a mammography appointment, please call the radiology department at 785-540-4930.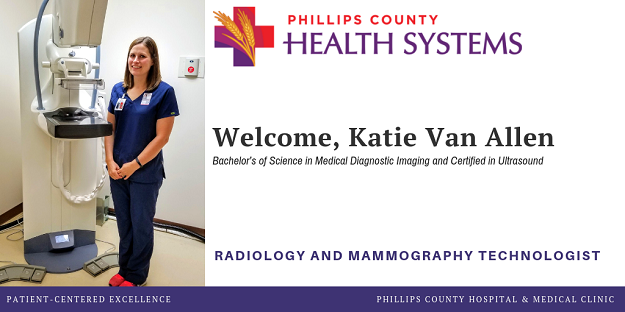 Ads by My Phillips County Online