News » Sports
News
Print Listing
Share on Facebook
Tweet This
Send to Friend
Send this listing to someone
Verification Information
Type in what you see above: *
Verification Information
Please type the characters you see in this picture. Note: The characters are all lower case.
x
Sports
Longhorn Volleyball Southern Cloud Invitational Results
By Kensington News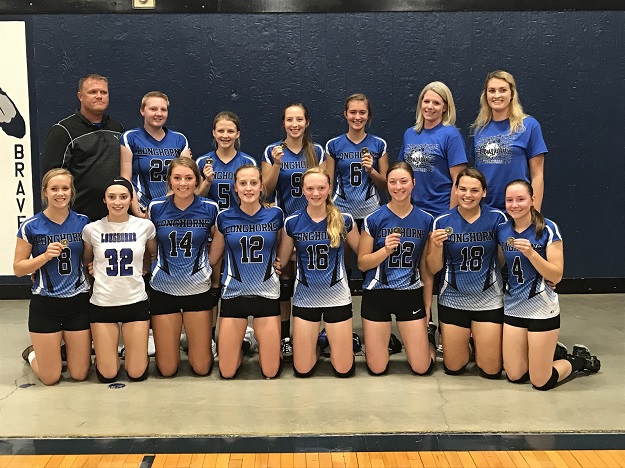 Back(l-r): (HC) Bruce Hardacre, Raegan Boden, Madelyn Davis, Matilyn Riley, Jadeyn Bice, Trina Schrag & Alison Cole. Front(l-r): Mariah Stauffer, Layne Pettijohn, Elizabeth Hardacre, Jaden Boden, Raini Hrabe, Kenda Reimer, Iva Rust, Brennan Kirchhoff
Congratulations to the Thunder Ridge Longhorn Volleyball team on winning the Southern Cloud Invitational this past Saturday, Sept. 8. They went 6-0 on the day with two, very intense, semi-final and championship games. THANK YOU to our committed fans for staying and cheering us on all day!! Pool play: TR beat Bennington 25-17, 25-19; TR beat Southern Cloud 25-16, 25-11; TR beat Blue Valley 25-21, 25-10. Bracket play: Quarter-Finals TR beat Rock Hills - 25-8, 25-8; Semi-Finals TR beat St. John/Tipton - 27-25, 25-13; Finals TR beat Hanover - 23-25, 25-21, 25-16. The Lady Longhorns are 12-0 so far this season. Keep it up ladies!