News » Sports
News
Print Listing
Share on Facebook
Tweet This
Send to Friend
Send this listing to someone
Verification Information
Type in what you see above: *
Verification Information
Please type the characters you see in this picture. Note: The characters are all lower case.
x
Sports
MCEL Tournament @ Phillipsburg
By Robin Sides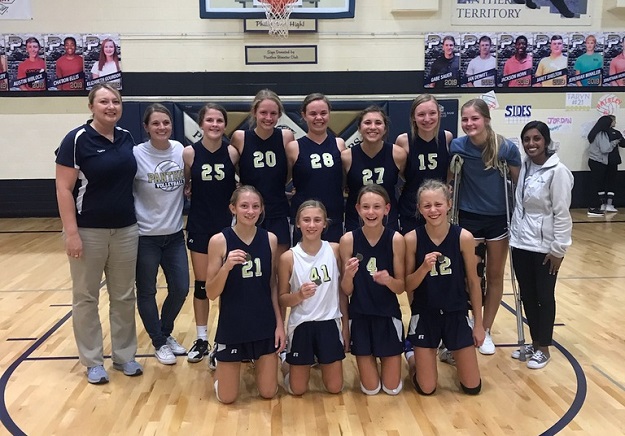 Phillipsburg hosted the MCEL Volleyball Tournament on Saturday, October 6. The Panthers went into the tournament with an 18-0 record, which seeded them first.
During pool play, the Panthers first faced Oakley, who had defeated Plainville in the play-in game. The Panthers got out to a slow start, but eventually defeated the Plainsmen in two sets 25-22, 25-15. In the second matchup of the day, the Panthers faced a much improved TMP Monarch team. The Panthers fell during the first set 24-26, but rebounded in the second set to take it 25-17. In the final pool play action, the Panthers faced Trego. The Panthers attained a decisive victory in both sets, defeating the Eagles 25-11, 25-19.
Despite the loss to TMP, the Panthers were still the number one seed coming out of pool play. In the semi-final matchup, the Panthers faced Ellis, who came into the tournament as the ten seed, but finished second in their pool. The Panthers came out aggressive in the first set to defeat the Railroaders 25-15. In the second set, scrappy play by Ellis kept them in the game, but ultimately the Panthers prevailed 25-22. This win put Phillipsburg in the championship to face Norton, a team they had previously defeated twice. Though the Panthers jumped out to a lead, aggressive serving and net play by the Bluejays resulted in a loss during the first set for the Panthers 22-25. In the second set, the Panthers rebounded with aggressive net play of their own to take the second set 25-19. In the third set, the score bounced back and forth, as both teams were determined. Ultimately, the Panthers prevailed 15-13, when a Norton attack sailed out of bounds.
The Panthers won their fifth straight MCEL title. The Panthers concluded their season with a 22-0 record, league champions, and MCEL tournament champions.
Ads by My Phillips County Online