News » Education & School
News
Print Listing
Share on Facebook
Tweet This
Send to Friend
Send this listing to someone
Verification Information
Type in what you see above: *
Verification Information
Please type the characters you see in this picture. Note: The characters are all lower case.
x
Education & School
Pinkerton and Leggett crowned LHS Royalty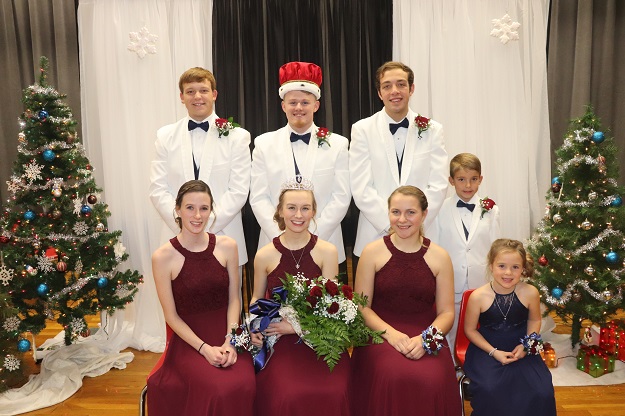 Logan High School 2018 Winter Formal Royalty: (front row) Melissa Leiker, Miss LHS Brianna Pinkerton, Elsie Prather and attendant Graysen Becker; (second row) Michael Daniels, Mr. LHS Colby Leggett, Matthew Kirkendall and attendant Tobin Kats.
On Saturday, Dec. 1, Logan High School celebrated their 56th annual Winter Formal coronation and dance. The evening began with Junior Class Student Council representatives Emma Rust and Hunter Hogan introducing the Mr. and Miss LHS candidates including: Michael Daniels (son of Cory Daniels and Christy Stanton), Matthew Kirkendall (son of David and Donna Kirkendall), Colby Leggett (son of Mark and Rachelle Leggett), Melissa Leiker (daughter of Paul and Michelle Prewo and Danny Leiker), Brianna Pinkerton (daughter of Rob and Lisa Pinkerton) and Elsie Prather (daughter of Brad and Nova Bates and Leon Prather). The first grade attendants were Tobin Kats (son of Mark and Anissa Kats) and Graysen Becker (daughter of Shaun and Tiffany Becker.)
Student Council co-presidents Camryn Greving and Dawson Goble then announced the Colby Leggett as Mr. LHS and Brianna Pinkerton as Miss LHS.
Following the royalty procession to the song "I Don't Want to Miss a Thing" by Aerosmith, Emma Rust closed the ceremony. Pictures were taken, and the students moved to the small gym for the dance.
Ads by My Phillips County Online