News » Business
News
Print Listing
Share on Facebook
Tweet This
Send to Friend
Send this listing to someone
Verification Information
Type in what you see above: *
Verification Information
Please type the characters you see in this picture. Note: The characters are all lower case.
x
Business
USA Clean Fuels Wraps up Fundraiser Supporting local Healthcare Foundation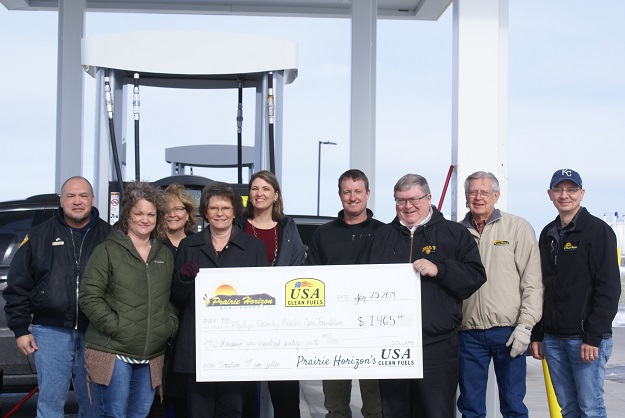 Photo (L to R): PCHF Board of Director's – Pete Rogers, Dana Grammon, Barb Losey, Deb Kennedy, Becky Lix and Rance Ames. Prairie Horizon Board of Director's – Denis Miller and Dan Heinze, General Manager Joe Kreutzer
USA Clean Fuels on E Hwy 36 in Phillipsburg wrapped up a .03¢/gal fundraiser in support of local healthcare on December 31st,2018. The event, "Fuel up to improve our Air and Support our Healthcare" began three months prior, on October 1st in partnership with the Phillips County Healthcare Foundation as a way to promote the health benefits of using ethanol blended fuel versus traditional gasoline. In that span of time 48,823 gallons of higher ethanol blends were sold amounting to a $1,465 donation to the foundation. "The Phillips County Healthcare Foundation really appreciates USA Clean Fuels' support. Providing funds to assist in proving quality local healthcare providers, while also bolstering local ag producers and helping the environment is a great combination," said Rance Ames, Chairman, Phillips County Healthcare Foundation.
The Phillips County Healthcare Foundation is a local charitable organization whose mission is to foster and enhance resources of Phillips County for improvement of healthcare and wellbeing of the community. The beneficiaries of the PCHF are the Phillips County EMS, the Phillips County Health Department, the Logan Manor, the Phillips County Retirement Center, the Wellness Center, and Phillips County Health Systems.
If you fuel up using traditional petroleum-based gasoline, 20-30% of each gallon you put in your car is comprised of harmful aromatics such as Benzene, Toluene, and Xylene. These toxic additives cause heart disease, cancer and are connected to issues for our children such as asthma and even autism. Adding more ethanol to gasoline will reduce the harmful aromatic compounds, lowering tailpipe and greenhouse gas emissions while improving air quality and engine performance. What's in your fuel?
###
Prairie Horizon's USA Clean Fuels on East Highway 36 in Phillipsburg, KS offers the consumer a fuel choice that is cleaner, more affordable and better performing. Prairie Horizon Agri-Energy is a limited liability corporation, founded in November 2003 in the rural community of Phillipsburg, Kansas. Our company is owned by 300 area investors and employs thirty-six people. Annually, Prairie Horizon produces over 40 million gallons of ethanol and grinds 15 million bushels of grain; yielding just around 127,000 tons of high protein livestock feed.
Ads by My Phillips County Online