News » Health
News
Print Listing
Share on Facebook
Tweet This
Send to Friend
Send this listing to someone
Verification Information
Type in what you see above: *
Verification Information
Please type the characters you see in this picture. Note: The characters are all lower case.
x
Health
Lifesaving Defibrillation Unit Installed at PCH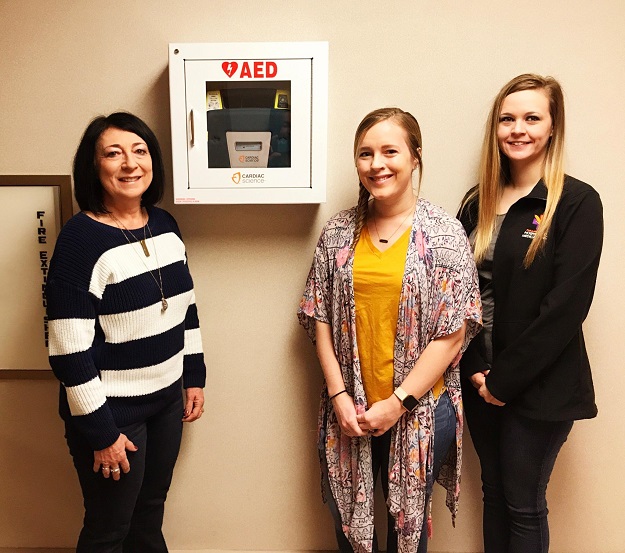 Senior Life Solutions' Tracy Sanson, RN and Program Director, Cassaundra Seemann, LSCSW and Program Therapist, and Destiny Reiter, Patient Coordinator with the new AED.
Starting in February of 2019, employees, patients, and visitors to the Senior Life Solutions area of the Phillips County Hospital have a better chance of surviving a cardiac arrest because of a newly installed automated external defibrillator (AED).
According to Tracy Sanson, RN and the Program Director for Senior Life Solutions, concern about being able to provide quick defibrillation and their average patient age caused them to set up the AED in the downstairs area (the previous main entrance) of the hospital. "The patients taking advantage of the Senior Life Solution's support group, psychiatric appointments, and counseling services are typically of the geriatric/senior population age group and are more susceptible to heart conditions. Even though we are located within the hospital, with the distance between our service area and the ER and every minute counting when it comes to saving the life of a cardiac arrest patient, we wanted to make sure our patients have access to immediate, lifesaving care. Every minute defibrillation is delayed, the victim's chances of survival goes down 7-10 percent and death usually follows unless a normal heart rhythm is restored within minutes," said Tracy.
The purchase of the AED unit was made possible by the generous support of the Morgan Foundation, which provided 75% of the funds needed to purchase the unit through a grant, with Phillips County Health Systems funding the remaining amount.
Ads by My Phillips County Online