Phillips County Area
CHAMPS IN PHILLIPSBURG
Reigning world champ wins Kansas Biggest Rodeo buckle, loves the community
By Ruth Nicolaus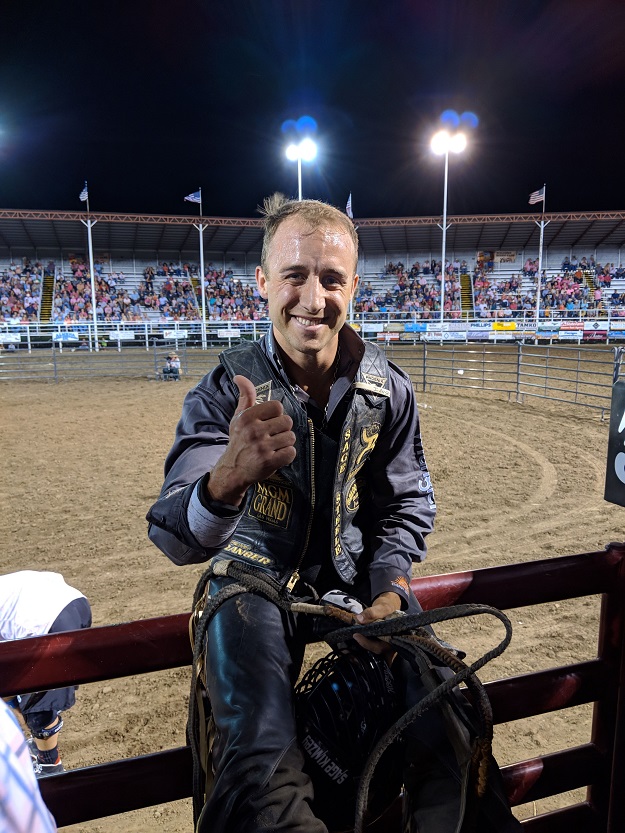 Five-time world champion bull rider Sage Kimzey gives a thumbs-up after his ride on August 1 at Kansas Biggest Rodeo. He scored 87 points to win the 2019 Phillipsburg bull riding title.
Phillipsburg, Kans. (August 4, 2019) – A familiar face to Phillipsburg rodeo fans won another gold buckle at Kansas' Biggest Rodeo.
Sage Kimzey, the five-time and reigning world champion bull rider, bested the field of forty-nine bull riders to score 87 points and win the buckle.
He rode the Beutler and Son Rodeo bull Record Rack's Tombstone for the win, a bull he had never been on. "He's a really nice bull," Kimzey said. "He's been around for a long time. He turned back a little close (to the chutes) and hit his head twice on the chute. That threw my timing off pretty bad but with a lot of try I got by him. I needed this win for sure."
Kimzey, who grew up in Strong City, Okla. and now lives in Salado, Texas, is ranked second in the world standings, and barring a serious injury, will be headed to his sixth Wrangler National Finals Rodeo (WNFR) this December. Second place is a spot that's unfamiliar to him; he's dominated the standings nearly all year, every year for the past five.
The win in Phillipsburg was good. "I haven't been drawing the greatest," he said, "and haven't been riding the greatest. It's been a little slow since Calgary (Stampede), and I needed to get a nice win under my belt."
Younger brother Trey also rode in Phillipsburg but was bucked off. Sage and Trey travel together, along with fellow bull rider Tyler Bingham, Honeyville, Utah. Trey is ranked in the top fifteen right now, and Sage loves to see him succeed. "It's been good, watching him come up (through the ranks) this year," he said. Trey "had a lot of success last year, and he kept the ball rolling this year. He's been battling a little bit of streakiness but in the big scheme of things, he's been riding really good." If both men stay in the top fifteen, they'll compete at the WNFR together this year. "Everything's looking forward to the Finals," he said. "That's going to be an experience if we can both get it made."
Kimzey is no stranger to Phillipsburg. His dad, Ted Kimzey, was a barrel man and bullfighter in Phillipsburg for years. Sage and his older sister Dusta and younger brother Trey came to Phillipsburg as kids, traveling with their dad. Sage has competed at the rodeo for the past five years, and Trey has ridden bulls there a couple of times.
He loves coming to Phillipsburg and other small town rodeos like it. "The people in this small community, you just don't find anywhere else. There's just something about true country people," he said. "They can call this the fly-over states all they want, but the people are as good as you'll ever run into. I think that's what really makes these rodeos special, the people who are here."
Kimzey was also the champion of the 2016 rodeo. He tied for fourth place twice (2014, 2017) and tied for second in 2015.
Two men split the win in the steer wrestling.
Blair Jones, originally of Monte Vista, Colo. and now living in Colby, Kan., and Denell Henderson, Damascus, Ark., both turned in times of 3.6 seconds to win the title.
Jones, who is 28 years old, drew the steer that won Riley Duvall first place at the Burwell, Neb. rodeo last month.
He rode a horse belonging to Dru Melvin, Hebron, Neb. Nitro, a fourteen-year-old gray gelding, is "about as nice of a horse as you can get on," he said. "I get along really great with him. He scores real good and gives you a shot to win every single time you get on him."
Jones attended Ft. Hays (Kan.) State University, graduating with an ag business degree. He met his wife at Ft. Hays; they married and now live in Colby.
Denell Henderson is doing well in his first year of pro rodeo competition.
The 26 year old cowboy has a hefty lead in the standings in the 2019 Resistol Rookie of the Year and his win in Phillipsburg will move him higher up the ladder.
Rodeo was not his main choice during high school and college.
At 6 feet 8 inches tall and weighing 270 lbs, he was recruited to play college basketball, starting two years at Connors State in Warner, Okla, and two years at Oral Roberts University in Tulsa, Okla. He had competed in rodeo as a youngster, and after college, decided to come back to it. "After college, I was like, I'm ready to rodeo. I got over the whole basketball deal," he said.
Henderson was aboard a horse owned by Sean Mulligan, Coleman, Okla. Hollie, a sorrel mare, is "great," he said. "I wouldn't rather get on anything else."
This was his first trip to Phillipsburg. He is currently ranked twenty-eighth in the world standings.
Other 2019 champions include bareback rider Shane O'Connell, Rapid City, S.D.; team ropers Clay Tryan, Lipan Texas, roping with Travis Graves, Bluff Dale, Texas, and Clay Smith, Broken Bow, Texas, roping with Jade Corkill, Fallon, Nev. (both teams tied with a 4.0 second run); and saddle bronc rider Hardy Braden, Welch, Okla.
The reigning world champion tie-down roper Caleb Smidt is the new Phillipsburg rodeo champion, and barrel racer Michelle Darling, Medford, Okla., is the barrel racing titlist.
The big checks for Tough Enough to Wear Pink were awarded tonight. Including matches from sponsors, approximately $9,800 was donated to local cancer patients through the Hope for the Heartland fund. Sponsors that matched the rodeo's donation include the Prairie Horizon Agri-Energy, McClain Seed Sales, Rodgers and Associates Insurance Co., and Farmers State Bank. In the last year, twenty-nine people have benefitted through the Hope in the Heartland fund.
The 2019 Phillipsburg Rodeo queen was crowned during the August 1 performance. Danielle Forster, Smithfield, Neb., was selected as the new queen. She is a 2018 graduate of Elwood (Neb.) High School and will be a sophomore at the University of Nebraska-Lincoln, majoring in pre-veterinary medicine and animal science with an equine option. In college, she is a member of the Pre-Vet Club, the UNL Equestrian Team and the Alpha Omicron Pi sorority. This past spring, she was on the UNL Dean's List. She is the daughter of Kevin and Kim Forster. For more information and complete rodeo results, visit www.kansasbiggestrodeo.com.
Ads by My Phillips County Online