News » Education & School
News
Print Listing
Share on Facebook
Tweet This
Send to Friend
Send this listing to someone
Verification Information
Type in what you see above: *
Verification Information
Please type the characters you see in this picture. Note: The characters are all lower case.
x
Education & School
Logan's Veteran Day Celebration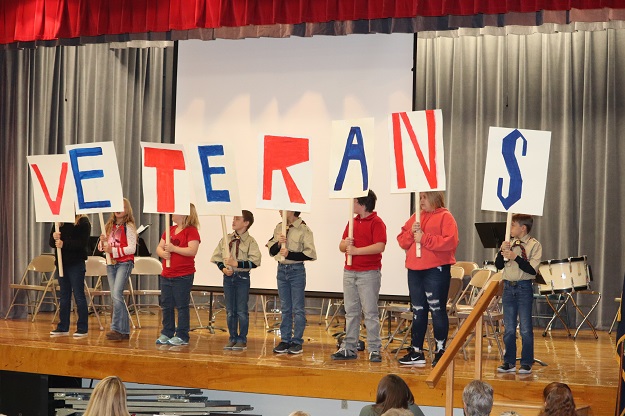 The 5th grade students recited what each letter of the word VETERANS meant to them.
The Logan Schools presented their Veterans Day Program on Monday, Nov. 11 at 9:30 a.m. in the Logan School Auditorium.
After Cub Scout Pack #124 posted the colors, senior Jed Peace recited a moving story entitled "Old Ragged Flag." The band students played the "Armed Forces Medley" and the elementary students joined in to sing "America the Beautiful." The junior high choir and Music Appreciation classes presented a Reader's Theater, and the high school girls trio performed "Boogie Woogie Bugle Boy." The junior high students also presented videos they had created in their social studies classes as they interviewed veterans Myron Brown, Stacey "Tater" Brackney and Bernard McCormack. The 5th graders created posters spelling VETERANS and recited what each letter meant to them. Madison Gottstine played "Taps," and the Cub Scouts retired the colors.
A very special thanks to all Veterans who attended. The program was directed by Mr. Paul Prewo and Mrs. Sarah Rudd.
With the 6-12 band on stage, the K-5 students join them to sing "America the Beautiful."
Cub Scout Pack #124 Brayton Woods, Buster States, Weston Ruff, Taden Gottschalk, Keegan Breese, Gunnar Ashmore and leader Jim Ashmore post the colors to begin the Veterans Day program.