News » Education & School
News
Print Listing
Share on Facebook
Tweet This
Send to Friend
Send this listing to someone
Verification Information
Type in what you see above: *
Verification Information
Please type the characters you see in this picture. Note: The characters are all lower case.
x
Education & School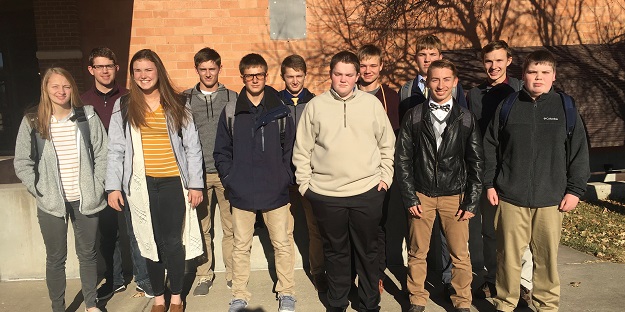 On Thursday, November 14th, 12 PHS Students traveled to FHSU to compete in the 41st annual Math Relays. There were over 600 contestants from 44 different schools ranging from 1A to 6A in classification.
Seniors – Conlee Hugunin, Emily Schneider, Cole Wenzl
Juniors– Kagan Keeten, Ethan Leidig, Ty Sides
Sophomores – Jeremy Ford, Joel Ford, Eric Moon
Freshman – Noah Jacobs, Isaac Ralston, Taryn Sides
Here are the top 10 team and individual placings from Phillipsburg.
Test 1 - Using Number Sense
7th place 10th grade individual – Eric Moon
8th place 9th grade team - Noah Jacobs, Isaac Ralston, Taryn Sides
9th place 12th grade team - Conlee Hugunin, Emily Schneider, Cole Wenzl
Test 3 - Algebraic Manipulations
5th place 10th grade individual – Eric Moon
Test 4 - Geometry
8th place 9th grade team - Noah Jacobs, Isaac Ralston, Taryn Sides
8th place 11th grade team - Kagan Keeten, Ethan Leidig, Ty Sides
9th place 12th grade individual – Cole Wenzl
Test 6 - Calculations with Calculators
4th place 10th grade team - Jeremy Ford, Joel Ford, Eric Moon
Ads by My Phillips County Online