News » Sports
News
Print Listing
Share on Facebook
Tweet This
Send to Friend
Send this listing to someone
Verification Information
Type in what you see above: *
Verification Information
Please type the characters you see in this picture. Note: The characters are all lower case.
x
Sports
Volleyball Earns Trio of All-MIAA Honors
FHSU Athletics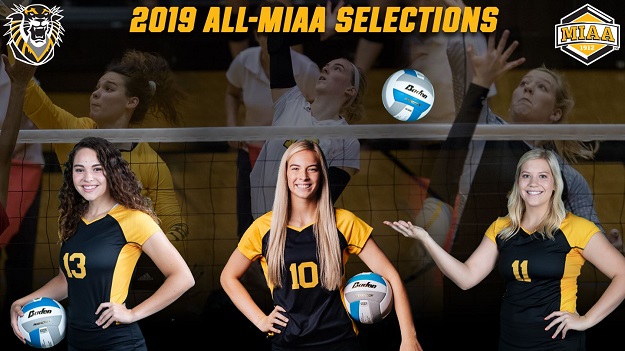 KANSAS CITY, Mo. - Three players representing the Fort Hays State volleyball team earned All-MIAA honors for their performance on the court, announced Wednesday (Nov. 20) by the league office. Delaney Humm picked up second team All-MIAA honors, while Tatum Bartels and Isabelle Reynolds received honorable mention accolades.

Delaney Humm earned a spot on the second team after a strong freshman campaign. The outside hitter totaled a team-best 336 kills on the year, breaking a 24-year-old record of kills by a freshman (Andrea Ladwig, 312 kills, 1995). Humm averaged 3.54 kills per set, third best in the MIAA. The Lincoln, Neb. native added 262 digs (2.76 per set), second most on the team. She tallied 13 double-doubles on the year, reaching double figures in kills 19 times and digs 14 times. Humm eclipsed 20 kills four times, including a season-high 22 kills on two occasions. She recorded a season-high 21 digs late in the season against Missouri Western (11/7). Humm also led the team with 21 service aces and ranked fifth with 27 total blocks (one solo).

Tatum Bartels picked up honorable mention status after leading the team with a .238 attack percentage, ranking 17th in the conference. The junior accumulated 184 kills, ranking third on the team. She totaled 51 kills on the year, including 10 solo blocks, ranking second on the team in both categories. The Phillipsburg, Kan. native also ranked second on the team with 16 service aces. Bartels recorded 10 or more kills nine times, including a career-best 22 kills in a win over South Dakota Mines (9/7). The middle blocker added a season-high six blocks in the victory over South Dakota Mines.

Isabelle Reynolds earned honorable mention recognition after accumulating 212 kills on the year, averaging 2.26 kills per set. Both totals ranked second on the team. The outside hitter eclipsed double figures in digs eight times, including a season-high 17 kills against Missouri Southern (10/18). She added 68 digs and 32 total blocks on the defensive end, including a season-best 11 digs against Missouri Western (11/7). Reynolds ranked fourth on the team in both total blocks and service aces with five.