News » Education & School
News
Print Listing
Share on Facebook
Tweet This
Send to Friend
Send this listing to someone
Verification Information
Type in what you see above: *
Verification Information
Please type the characters you see in this picture. Note: The characters are all lower case.
x
Education & School
K-State Places School Record 32 on Academic All-Big 12 Teams
Local: Kirk Coomes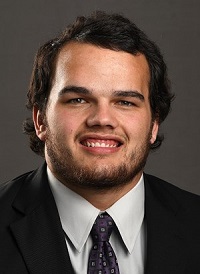 MANHATTAN, Kan. – Kansas State's football program set a new school record with 32 Academic All-Big 12 honorees – including a league-record 26 first-team members – as the conference office announced the 222-member Academic All-Big 12 teams on Tuesday.

The Wildcats' 26 first-team members were three more than the previous Big 12 record of 23 by both Nebraska and Texas Tech in 1999. K-State's 32 total honors were the third most in Big 12 history behind Nebraska's 35 honorees in 1997 and 33 members in 2001.

Since 2014, K-State has tallied 167 total Academic All-Big 12 accolades, which is 41 more than the next closest program (Oklahoma State, 126).

---

Headlining this year's list were a Big 12-high four players that were nominated with a 4.0 GPA in tight end Blaise Gammon (financial services) and wide receiver Landry Weber (accounting) – both of whom tallied 4.0 GPAs for a second-straight year – in addition to Tyler Mitchell (accounting) and wide receiver Dylan Wentzel (biochemistry). The Wildcats have led the Big 12 in players nominated with a 4.0 GPA for sixth-consecutive years.

Gammon and Weber were repeat first-team honorees and were also joined by Kyle Ball (financial management), Evan Curl (mechanical engineering), Ross Elder (finance), Scott Frantz (education), Ryan Henington (management), Adam Holtorf (agribusiness), Nick Kaltmayer (electrical engineering), Nick McLellan (kinesiology), Brock Monty (financial management), Dalton Schoen (mechanical engineering) and Drew Wiley (animal sciences & industry).

Other Wildcats earning first-team accolades this year include Nick Allen (open option), Nick Ast (marketing), Tyler Burns (social science), Kirk Coomes (biology), Thomas Helton (construction science & management), Noah Johnson (marketing), Logan Long (political science), Blake Lynch (financial management), Jordan Mittie (MBA), Randen Plattner (mechanical engineering) and D.J. Render (mass communication).

K-State's second-team members were comprised of Mason Barta (management), Denzel Goolsby (professional strategic selling), Eli Huggins (finance), Hayden Perry (marketing), Luke Sowa (communication studies) and Samuel Wheeler (kinesiology).

Nominated by each institution's director of student-athlete support services, the 2019 football academic all-league squad is comprised of 149 first-team members combined with 63 on the second team. First-team members consist of those who have maintained a 3.20 or better GPA, and the second team are those who have a 3.00 to 3.19 GPA.

To qualify, student-athletes must maintain a 3.00 GPA or higher either cumulative or the two previous semesters and must have participated in 20% of their team's scheduled contests. Freshmen and transfers are not eligible in their first year of academic residence. Senior student-athletes who have participated for a minimum of two years and meet all the criteria except percent of participation are also eligible.