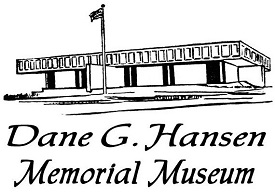 Dane G. Hansen Memorial Museum News
January 14, 2019
Museum News
Shari Buss, Director
Dane G. Hansen Museum
110 W. Main, P.O. Box 187
Logan, KS 67646
At the time of publication, we are 16 or 17 days into the New Year (depending on which paper you are reading). If you are a goal-setting person, (or if you pretend to be at least once a year), you are probably falling into one of three categories regarding your New Year's resolution(s): 1) Still going strong; 2) Starting to sputter, running out of motivation, and in danger of quitting; or, 3) Done - either accomplished or stopped trying. If one of your resolutions was to learn new skills, the Dane G. Hansen Continuing Education program can help! We have many fun learning opportunities scheduled in 2019. Our next offering, Dance Class, starts February 3, 2019. Kerry and Dezi Ferguson will teach beginners and advanced learners the two-step, east coast and west coast swing, cha cha, polka, waltz, etc. Dance class is a tremendous value, entertaining, and an awesome opportunity to spend quality time together. Each class starts with lots of laughter and smiling and ends with progress and pride. Sounds great, doesn't it? Check out the dance class registration form on the Dane G. Hansen Museum Facebook page or at www.hansenmuseum.org. There is still time to register and stay on target with your New Year's resolution(s). If dance isn't your idea of fun, then check out our 2019 Continuing Education Schedule at www.hansenmuseum.org and I am sure you will find at least one class that piques your interest.
Carol Stockman, Kirwin and Melanie Elliott, Kensington discuss "North Carolina Lily"
Charlene Hildebrand, Logan enjoys the quilt "Coxcomb"
The days of our current exhibit, Red and Green Quilts, are numbered. This exquisite collection of 25 quilts dating as early as 1835 and as late as the early 20th century will be available for viewing until Sunday, January 27th. As with anything that time runs short on, its popularity seems to increase. This past week the Museum was pleased to have visitors from near and far. Two ladies traveled from Topeka, KS, a group of 6 from Alma, Nebraska's quilt guild, and several local visitors have come to explore this fantastic collection on loan to us from the Rocky Mountain Quilt Museum. These quilts are excellent examples of this beautiful era in our quilting history. The 19th century decorative arts were dominated with red and green floral designs which inspired handcrafters to incorporate these same motifs and color patterns in their work.
Make plans to come see these lovely Red and Green Quilts lavishly adorning our gallery walls. The Museum is located at 110 W. Main Street, Logan, Kansas. Museum hours are Monday through Friday 9-12 & 1-4; Saturday 9-12 & 1-5; Sunday & holidays 1-5. We are handicapped accessible and thanks to the generosity of the Dane G. Hansen Foundation, there is never an admission fee. For more information, please call 785-689-4846. We hope to see you at the Museum