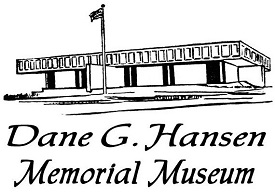 Dane G. Hansen Memorial Museum News
September 17, 2018
Museum News
Shari Buss, Director
Dane G. Hansen Museum
110 W. Main, P.O. Box 187
Logan, KS 67646
Although taken for granted by many social and art historians, the apron is the subject of a fascinating reevaluation in the exhibit Apron Strings: Ties to the Past, on display at the Dane G. Hansen Museum until October 21, 2018. This exhibition features fifty-one vintage and contemporary examples that review the apron's role as an emotionally charged vehicle for expression with a rich and varied craft history that is still viable today. Using aprons dating from the late 1930s through the present, this exhibition chronicles changing attitudes toward women and domestic work. It also surveys the wide range of design and craft techniques apron-makers have used to express themselves, while still working within creative venues traditionally available to women. Today, artists continue using aprons to explore cultural myths and realities as well as their individual experiences with American domesticity. Thought provoking and/or simple enjoyment, you chose when viewing Apron Strings: Ties to the Past.
Exhibit Apron Strings: Ties to the Past at the Dane G. Hansen Museum
Tanner Lytle, September's Artist of the Month, is an accomplished artist working in multiple mediums. Oil and digital paintings make up the majority of his display, but Tanner has also sprinkled in a few amazing charcoal drawings. Original works start at $60.00 and prints at $15.00; there is a price point that will fit your budget. Subject matter is as diverse as his talents. You can find super heroes, trains, animals, trees, and more. Art is a gift that continues to delight the recipient. All Dane G. Hansen Museum members receive a 5% discount on Artist of the Month purchases. Stop in and look, you will not be disappointed.
Looking ahead to October, T.R. Matthews and Sandy Seamone, certified Bob Ross instructions, will be at the Museum October 20th and 21st to teach Joy of Painting classes. Participants registering before October 12, 2018, pay $70.00 for each class. Register after the 12th and pay $75.00 for each class. Registration fees include all painting supplies. If you have any interest in learning to paint, Joy of Painting is the perfect starting point. Call 785.689.4846 for registration information and class details. Pre-registration is required.
The Museum is open Mon. through Fri. 9-12 and 1-4; Sat. 9-12 & 1-5; Sun. and holidays 1-5. We are closed Thanksgiving, Christmas, and New Years. We are handicapped accessible and admission is always free thanks to the generous support of the Dane G. Hansen Foundation. For more information or if you have questions, please contact us at 785-689-4846. We hope to see you at the Museum.